Garber Buick Celebrates 110 Years
This year, we at Garber Buick are celebrating 110 years of bringing you the finest Buick vehicles we could offer. Since the beginning, we've been providing excellent customer service with every interaction and are dedicated to civic leadership as an organization as well as individuals. Although the cars have changed over the years, Buick and our standard of excellence have not – it matters where you buy your car and excellence is the difference.
As the oldest family-owned Buick dealership in the United States, the Garbers have always conducted a unique relationship with GM's Buick Motor Division. In its early years, Garber Buick Company became a GM model for salesmanship, efficiency, and service to the customer.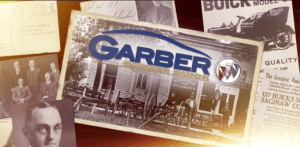 In 1907, Guy S. Garber established his first dealership in Battle Creek and brought Buick to Saginaw in 1910. His outstanding salesmanship skills earned him the attention of William C. Durant, founder of General Motors which created the basis of a successful business relationship that weathered two world wars and a great depression. In that time, he lived and breathed service in every sense of the word. He was a great civic leader and ran his dealerships with a laser focus on providing the best experience for the customer. 
He passed on that sense of leadership to his family where the Garbers have been at the helm of the business since. Our current president and CEO of the company, Richard J. Garber Jr. adheres to the foundations of excellence that his grandfather laid for this organization and has grown the business exponentially since taking over in 1980.
We are a long way from the 1907 dealership that Guy Garber created, but important traditions live on: dedication to service, a loyal staff, and a forward-looking vision. One that echoes in the spirit of a young farm implement salesman who took thousands of mid-Michigan area residents out of the buggy and put them behind the wheel.
At Garber Buick, we are proud to be a part of such an exemplary organization and believe in the core principles set up so long ago. The longevity of this company is a testament to its excellence and look forward to ushering in 110 more years of outstanding service, vision, and quality.  This is why it matters where you buy your car.
Comments
comments