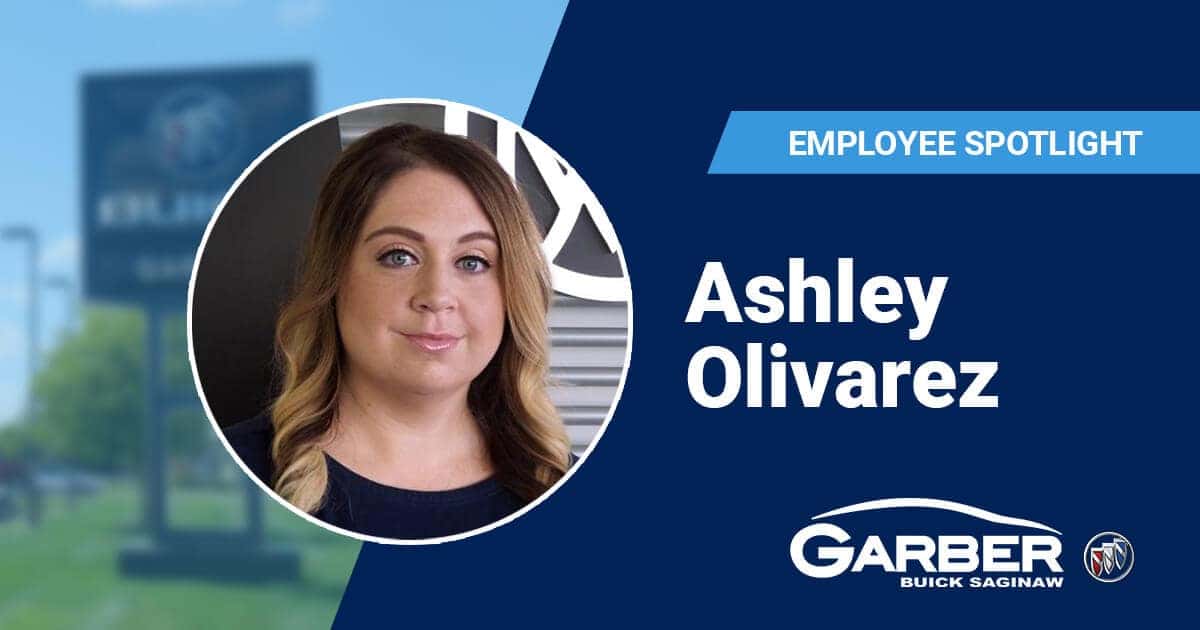 Ashley Olivarez doesn't mind a challenge or two.
In fact, she welcomes it. She lives in the sweet spot between smooth sailing and pressure-soaked.
That's why she doesn't mind handling double duty as the office manager for two of our Michigan dealerships: Garber Chevrolet Linwood and Garber Buick in Saginaw.
"I joke that sometimes I feel like I'm going to have a panic attack, but I love it," she laughed. "I work better under pressure. I know what needs to be done here and I'm not micromanaged. I have my own free will to get the job done at Garber."
She said she looks forward to the busiest time of the month for our dealerships.
"I like the challenge of making it all work," she said. "The month-end part of my job is my favorite part of what I do because I like the crunch time. I like trying to hit a deadline and verify all of our numbers. That's my favorite time. Not that any other day is not fun, but being able to do that for two stores is a challenge. I like it because I like to be challenged."
At Garber, Ashley gets it all: growth, support, impact…and yes, those challenges that give her that adrenaline rush she adores.
Finding the Right Fit
Born and raised in Saginaw, Michigan, Ashley always enjoyed administrative work. Then she found numbers, and it was a match made in heaven.
"When I was in high school, I went to the Saginaw Career Complex where I took a business class and we learned accounting," she said. "That's where I learned to love crunching numbers. I found that was where I wanted to go."
Combining her love of numbers and administrative work, she got a job in an industry that seemed like the most natural fit: the bank.
But once she got there, she learned what she didn't like, too.
"I worked at a bank and that's where I learned I wasn't a seller," she said. "I enjoy talking with the customers and the transactions. But they needed a great salesperson and I wanted more administrative work, so I knew I needed to find something else because I wasn't happy where I was."
She kept in contact with her branch manager, who connected her with the Payables team at Garber Management Group. She realized how different the Garber organization was from her past places of employment.
"My first impression was that this company was a lot different than anything I'd worked at in the past," she said. "I had a job at Burger King, Kroger, the bank…All of those had a corporate vibe and mindset. I was 22 when I started at Gateway, so it was kind of mind-blowing to see how close everybody was with each other. It was like a family. It really was. I know a lot of people say that, but it was just different. I could feel the difference from the other places I worked."
 Ashley's foot was officially in the door.
"I interviewed and said I was flexible and wanted to grow with the company, and they thought I should interview with Gateway Financial Solutions because they were growing," she said.
Ashley got a job with Gateway as part of the Admin team in 2008. While growing in her duties at Gateway, she expressed interest in becoming an office manager.
"I distinctly remember a conversation with Carol, my boss, during one of our one-on-ones and she's like, 'OK, what do you want to do next? Do you want my job?' I was like, 'Yes…' because who wants to tell their boss they want their job? But I wanted to have a job like hers."
"She said, 'We are Garber and in order for you to take that next step to be an office manager, you need to learn how to do dealerships.' It was everything. All the steps were taken to ensure I had experience and information and everything I needed to be able to be ready for a leadership position."
Ashley expressed interest in her growth – and Garber gave her the support she needed to achieve her goals.
Two for One
To get the dealership experience she needed, Ashley took an admin role with Garber Chrysler Dodge Jeep Ram in Saginaw.
"That's where I learned the ropes of being at a dealership," she explained.
In 2012, an office manager position opened up at Garber Buick in Saginaw. It was Ashley's time to shine.
"It worked out great," she said. "It was the perfect position for me. I'm so thankful I'm at Buick. Learning under Rich Perdue [General Manager] was huge for me."
She excelled in her role. So much so, that when a unique opportunity presented itself in 2017, she was willing to take on the challenge.
"Rich Perdue at that time also oversaw our dealership in Linwood," Ashley explained. "They were looking for someone to work in Linwood but not a full-time office manager, so he asked if I would want to do both stores: Buick and Linwood. I wanted to because I wanted to see what more was out there for me."
Ashley has served as office manager for both dealerships since October 2017. She goes to Linwood two days a week and Buick three days a week.
It's worked out well, to say the least.
"I like the challenge of both stores," she said. "If I went back to one store, I think I'd be bored. I'd want more."
Just like learning from Rich Perdue at the Buick store, she said working with David Tokarsky ("Tark"), the General Manager at the Linwood store, has helped her grow.
"Since Tark has been there, Linwood has had so much success and I am so glad that I am there to see it and be a part of it.  His leadership has helped me grow even more,"  she said.
"Both stores go above and beyond for people during times of need or just getting together to do something fun, like cider and doughnuts, or luncheons or food trucks. Something to break up the day and show that we appreciate everyone as a person rather than see them simply as an employee…it's amazing."
Family First
Though she works at two stores, Ashley still prioritizes family. Garber wouldn't have it any other way.
"I have the best balance as a mom and Garber employee," she said. "Garber understands you and what is important to you. Being able to be at my kids' football games or dance classes or anything like that… I don't want my need to grow at work to outweigh time with my family. Any of my leaders I've had from the beginning to now give me that balance. "
She said the flexibility is helpful.
"For me, I have the ability to work at night if I have to leave early for a game or pick them up at school," she said. "Garber is very understanding and I am comfortable asking if I need to leave early to pick up my kid because they know it's family."
Thanks to the challenges she loves so much, Ashley said she's grown leaps and bounds.
"I've grown night and day," she said. "I've never been an outspoken person, so for me, thanks to Garber investing in me and having these people as my guides… I've matured so much. I got much more confident in being able to talk in front of people and expressing myself and learning to be able to work as a leader with a team and have that mentorship. I'm grateful."
Fast Five

First concert? My mom was in love with Michael Bolton, so that was my first concert with her. She took me and my sister.

First car? '98 Buick Skylark

Favorite meal? Tacos

Three words to describe your personality? Caring, loyal, patient

Bucket list item? I would like to do a tour of Europe.