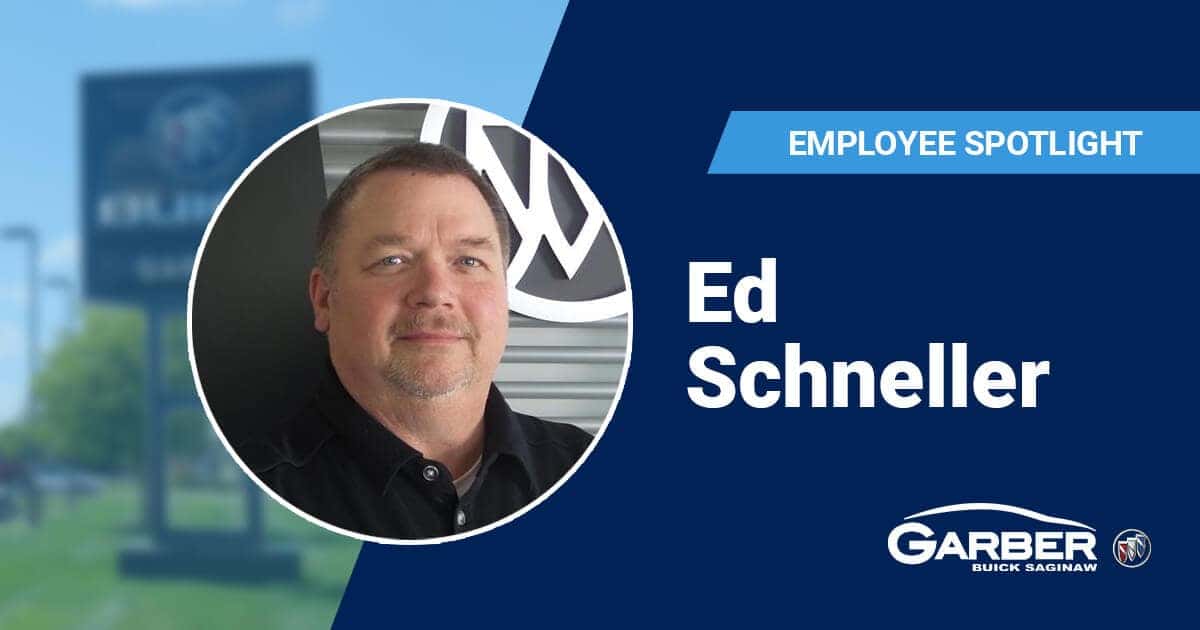 You could say Ed Schneller is a seasoned veteran at Garber.
Actually, he's the most seasoned in the entire company. There's only one person who has more years under his belt.
"Dick Garber has been here longer than me," Ed laughed. "I was hired by Garber on January 16, 1984. I've been here 38 years. The only person who's been here longer is the owner of this company."
Ed carries two titles at Garber: parts manager at the Buick store in Saginaw and parts director for the company as a whole. While he has grown as an employee, he has witnessed the growth of Garber, too.
"I've enjoyed all the growth and excitement," he said. "I've been at every acquisition and was part of every acquisition team except for Garber Webster in New York because of Covid."
He said the growth is not because of money, but because of opportunities for people to advance their careers.
"I never thought in the beginning we'd grow to this level," Ed said. "Dick talked about growing the company but I didn't think it would grow this fast. Dick said, 'As long as I've got people to grow, I'll buy stores and have places for them to grow.' He's buying stores, not for himself, but for employees. That tells you about Dick's philosophy: finding opportunities for employees that have worked hard and earned the right for that opportunity."
With 38 years at Garber, does Ed see himself leaving anytime soon?
"Dick says to me, 'Eddie, you need to stick around for at least five years.' We'll see."
So for now, Ed's sticking around…and we're grateful for it.
Back in Time
If we could rewind to nearly 40 years ago, we'd find a young Ed Schneller who had dreams of being a teacher. He had graduated from Ferris University with a Bachelor's Degree in Automotive Management.
Then he got a rude awakening.
"I wanted to teach skills trades," Ed explained, "but when I applied to teach with the Saginaw Board of Education, they said, 'Gee, Ed, do you have your secondary teaching certificate?' I said no, and they said, 'We suggest you go back and get it.'
Ed didn't know what to do. He was out of money and needed a job.
As fate would have it, Ed's dad got him connected with the service manager at Garber Buick. Ed started working the counter at the dealership.
He still had intentions of teaching. But when he got married, he and his wife wanted to buy a house…and he needed money.
"An opportunity came up for me to run an actual auto parts store, so I put my two-weeks notice in at Garber," Ed said.
But Dick Garber had other plans for Ed.
"I was in Dick Garber's office and he said, 'We don't want you to leave; we want you to be parts manager when Frank [my boss at the time] retires," Ed said. "That meant a lot to me, so I stayed. I never went to school. I became assistant parts manager in 1986 and became parts manager in January 1989. In 1993, I became service manager, but went back to parts after my daughter was born."
In 2001, Ed's role expanded. He became Parts Director – the role he holds to this day.
Moving Parts
The Parts Department is a key component of what Garber provides customers…which means Ed's got a job to do.
Two jobs, actually.
"As the parts manager, I am responsible for day-to-day operations of the parts department at our Buick store," Ed explained. "As parts director, I help all parts managers in the organization and general managers have a better-run parts department."
Ed said Garber's parts departments are second to none…and for good reason. The parts department plays a supportive role for the service department and Body Shop. Without the right parts, they aren't able to repair a vehicle.
"Our parts department is the best because of availability, efficiency, and expertise," he said. "You need to have parts available. You need to get them efficiently and they have to be the correct parts. Training is how we achieve that."
The Garber Philosophy
The reason Ed has stayed with Garber for so long hasn't changed. It's all about how the company treats people.
"The Garber way is taking care of people," Ed said. "You don't put profit ahead of the people. If you take care of people, the profit will come. That stuck with me from the day I was hired in."
In his personal life, Ed has experienced Garber's support firsthand.
"Countless times, I've seen people face medical conditions or family conditions, and they were taken care of," he said. "They were helped out and made sure they didn't handle the situation alone. That happened to me too."
Twenty-eight years ago, Ed and his wife found out they were pregnant. The doctor gave them unexpected news.
"When my wife was pregnant with her, we found out in her ultrasound that there was going to be a problem health-wise," he said. "I still remember the day when the doctors said, 'This is what we think is going on…' Garber was so helpful. We had lots of doctor appointments and no one ever said, 'You are missing too much time from work.' Instead, they said, 'What can we do for you? How can we help?'"
Ed carries on that same philosophy with his team.
"If one of my employees' kids have a doctor appointment, no questions asked, we say, 'That's where you belong.' There is nothing more important in this world than family."
At the end of the day, Garber provides employees with more than a paycheck, Ed added.
"You will be treated with respect here," he said. "You will get the opportunity for growth. You will be treated like family. If something should happen to you or your family, we will have your back. You won't ever be alone."
Fast Five

First job? Pumping gas at JCPenney's auto center

First car?  1966 Buick Special. Light blue.

Favorite meal? Hungarian goulash. Growing up, we'd eat dinner at my grandmother's house every Sunday and at least once a month she would make goulash.

Three words to describe your personality? Determined, dedicated, and loyal

Bucket list? Tour the inner parts of Alaska