When you come in to purchase a new vehicle, there are plenty of warranties and insurances offered to you to help you protect your investment – and we are happy to help you understand which ones are right for you. One that we recommend highly for everyone is Gap or GAP (Guaranteed Asset Protection) Insurance. If you have questions about whether you should lease or buy a vehicle, need tips to get the best deal on your new car, or just want to talk about your financial situation with someone, our team is ready to help!
First, what is Gap Insurance? When you buy a new or used car, gap insurance is additional protection that covers the vehicle's value between the amount you owe and the amount the vehicle is worth. That might not make sense immediately; it's easier to explain with a scenario.
For example, say you purchased a new car for $30,000 and financed it for the standard 60 months. But unfortunately, one year into your financing terms your car gets stolen or you're in an accident that totals the vehicle. Your insurance company would pay out the car's market value to replace it which is probably an estimated $20,000 due to normal depreciation – but you still owe $24,000 on your loan. Gap insurance would cover that extra $4,000, so you don't have to continue making payments on a vehicle that you can't drive.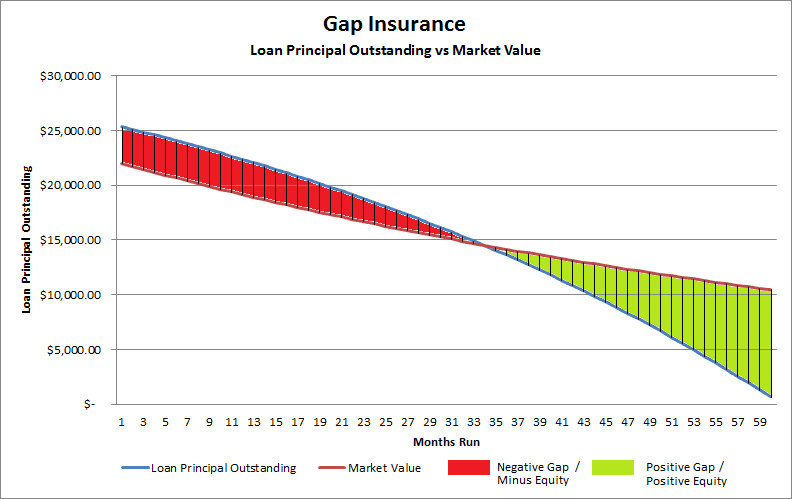 Gap insurance can save you from a very undesirable situation and help you hold onto your money when you need it most. When you owe more on your car than what its market value is worth, it's called being underwater or upside-down on your payments. If you foresee yourself spending significant time in that gap where you're underwater, then this insurance is a must for you.
There are few, rare situations where gap insurance isn't necessary. If you pay with cash or make a down payment greater than 25% of your vehicle's worth, it likely isn't necessary for you to get gap insurance because you won't be upside-down on your payments long enough to need it.
However, if you put down a small payment, if the vehicle is expensive, or if you finance the car over a longer term, say more than 48 months, then gap insurance is definitely for you. It's a fact that vehicles tend to depreciate faster than most drivers can pay off their loans, which means there are a few years where they're vulnerable and underwater. Should the worst happen (you total your car or it gets stolen), you'll owe your bank more than the car is worth and have to make payments on a vehicle you don't have. Gap insurance will protect you from that.
Talk to our team of financial experts to get all of your questions answered about purchasing your new vehicle. We're ready to help you make sense of what it takes to be a proud owner of a new or used car and keep your assets secure. Make an appointment or stop by to talk to a team member and start the process today!