It's easy to get carried away by that new car smell but before you get your hopes up dreaming of a new turbocharged supercar in your driveway, stop and take a moment to see what your vehicle budget looks like. There are additional costs to consider when looking at a new car, so doing your research before you go to the dealership can save you hundreds, maybe even thousands, of dollars. We'll break down all the expenses you can expect here, but remember that our Finance Team will get you an offer no matter your credit. Reach out to us today to discuss your situation and explore your options.
First, you should have your personal breakdown of living expenses; that's your monthly income with the money you know you have to spend each month on rent or mortgage, food, utilities, and bills already allocated. After you have those costs deducted, you can decide how much you have leftover for your new car! You can spend as much or as little of your income on a vehicle, it's up to you.
Crunching the Numbers
When you're shopping for a new vehicle, you need to think beyond just the sticker price listed on the window. There are additional fees that go along with buying or leasing a car that you should consider before your trip to the dealership. Take a look at these expected costs: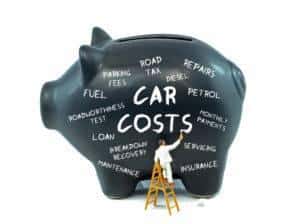 Processing Costs: These can't be avoided, and we at the dealership try to keep them to a minimum as best we can. Putting the title in your name, adding on sales tax, and essential documentation can add a little to your purchase costs.
Accessories: When you get that new truck, fill it out with some running boards or jack it up with a lift kit. Or if you really want to turn heads when you cruise downtown on a Saturday night, get the chrome rims to make your paint job pop. Making a statement may slightly bump up the costs but if it's worth it to you, do it! Whether you're with this vehicle for a few years or many – you need to love it.
Warranties: If you live in an area with terrible roads, maybe a warranty to assist you if you get a flat is a good idea. Or if the winter salt is particularly heavy in your area, getting an overcoat to protect your paint job could be worthwhile. Take a look at each warranty carefully to consider which ones are best for you.
Upkeep: Don't forget about car insurance, yearly registration fees, regular maintenance, and gas after you drive it off the lot. One thing you can do to keep these costs down is to check to make sure your insurance won't go up with the new car you have your eye on. And consider options that have better fuel efficiency to make sure you're not spending more in gas each week than you want to.
For a good rule of thumb, financial experts say that your car payment and regular upkeep shouldn't exceed 20% of your monthly income. So if you earn $2,500 each month, your car payments and all other automotive expenses shouldn't be more than $500. That way you can factor your insurance cost out of the $500 before narrowing down what you can expect to pay on your vehicle.
Once you know how much you can spend on your vehicle, then check out our Payment Calculator to see how you can achieve the payment you want. Toggling how much you put down for the car and how long you finance for can make a big difference in your monthly payment. See what works for you or contact us to let us know how we can help you!
And don't forget that we have excellent financing options available to all of our customers. Regardless of your financial situation, our specialists are dedicated to getting you into your dream vehicle. It's fast and easy to get approved – fill out our online application now!