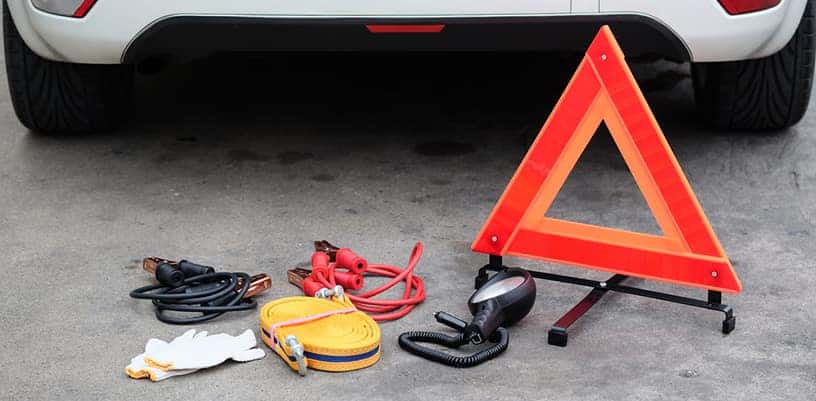 Breakdowns are way less common now than they ever have been, but it's still a good idea to prepare your vehicle in case you're stuck on the side of an interstate or back road. With the right tools, you can weather most unexpected stops without too much hassle. From changing a tire to cooling down the engine, below are a few things to keep in your kit to keep you safe.
First, it's worth mentioning that regular maintenance and vehicle inspections can help you prevent these breakdowns and keep your car running smoothly. Get your oil changed regularly and take care of your tires to minimize the likelihood of emergency stops and increase your general knowledge about the state of your vehicle. Make an appointment for a thorough vehicle inspection before you go on long trips so you can take care of any issues before your journey.
Car Jack With Spare Tire
Most cars come with these nestled in the trunk anyway, but verify it's all there and ready to go if you need it. A tube of flat-fixing material wouldn't hurt either.
Jumper Cables
Aside from the flat-fixing tools, these cables will probably get the most use. It's easy to leave a dome light on overnight accidentally and drain your battery. Be sure they're in good shape and ready to go.
Road Flares or Triangle Reflectors
When you're stranded on the side of the road, you want to be sure others can see you — for your safety and the safety of others.
Fire Extinguisher
Even a small one will help you put out a fire and prevent a small spark from turning into a big problem. Make sure it's not expired or tampered with before setting out on a long journey.
Tow Straps
If someone stops to offer help, make sure you can work together with the straps you have on hand. Or use these to help pull someone else out of a ditch.
Tool Kit
Having a few tools on hand will let you take care of minor fixes on your own. Be sure to have at least a few screwdrivers, an adjustable wrench, and tire-pressure gauge.
Flashlight and Extra Batteries
While most cell phones have this feature, it's better to conserve your battery for other tasks. Light is vital in an emergency, so keep fresh batteries around in case you drain the ones in the flashlight.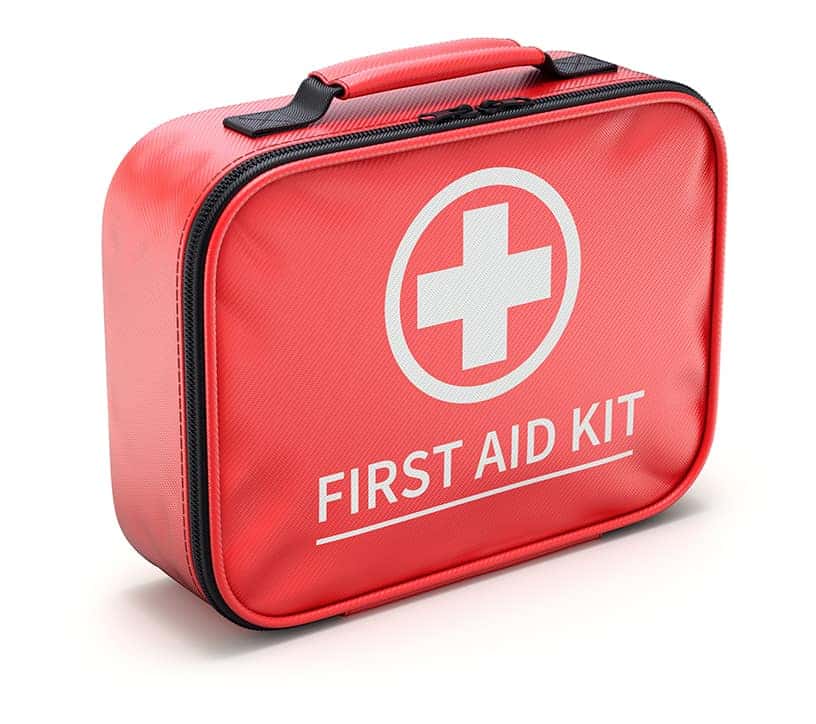 First-Aid Kit
Even if help is on the way, you'll have a few minutes before it arrives. Make sure you have bandages, gauze pads, antibiotic ointment, hand sanitizer, antiseptic, tweezers, ace bandage, and pain relievers.
Non-Perishable Food and Plenty of Water
Hopefully, you're not stranded for too long, but if inclement weather or other issues prevent help from reaching you quickly, you'll want to have snacks on hand. Granola or protein bars are a good option.
Blanket or Warm Clothes
When the weather is too bad to go on, sometimes it's better to just wait it out. Stay warm and ready to move one when it's time.
Poncho or Rain Jacket
In case you get caught trying to fix your car in the rain, have a jacket or poncho on hand to keep yourself dry while you work.
Shovel
Don't get stranded farther into the ditch, make a path and get out quicker with a shovel.
Duct Tape
If you're by yourself, you can tape the flashlight somewhere useful so you can see. Help the bumper stay on so you can make it somewhere safe. There are countless uses for duct tape.
Rags or Paper Towels
When you're checking your fluids to see what's happening under the hood, having a clean towel or rag will help.
Maps or GPS Unit
If you're out of cell range or out of battery, having a secondary way to find your location is vital. When you call for assistance, this can help you pinpoint your location in a pinch.
Spare External
Battery Pack
With Charging Cord
Most people already keep these in their glove box, but it's worth mentioning, just in case. Don't get stuck without a way to call for help. Be sure the cords you have match your phone before you leave.
Roadside Assistance Information
Know who to call in case you require help on the road. If you subscribe to a service, have their emergency number with you and all the information you need to help them get to you faster.
There are some pre-made emergency kits available, but it's worth adding to them to tailor your kit to your specific needs. Keep in mind the weather you're likely to encounter and any known issues with your car so you can add the essentials before you hit the road. Talk to a service department team member today for expert advice.