We all know that winter driving can be a pain for a variety of reasons. And your city does the best it can to keep the road clear with plows, salt, and other de-icers but those chemicals can take a toll on your vehicle. Thankfully with regular maintenance, you can reduce the damage from salt on your car.
Over the last five years, Americans spent over $15 billion repairing or reversing damage to their vehicles due to salt or road de-icers, according to a study by AAA. When you break that down, the average driver spent almost $500 on repairs, and not just on fixing the paint. Salt damage can create serious safety issues on the brake lines, exhaust systems, fuel tanks, and electrical connections. Know the signs so you can prevent hazards before they happen.
According to AAA, the best things to watch for are:
In-dash warning lights for brakes and other critical systems.
A "spongy" or soft feeling when applying pressure to the brake pedal.
An unusually loud exhaust sound or the smell of fumes in or around the vehicle.
The prominent smell of gasoline or diesel fuel when the vehicle is parked or running.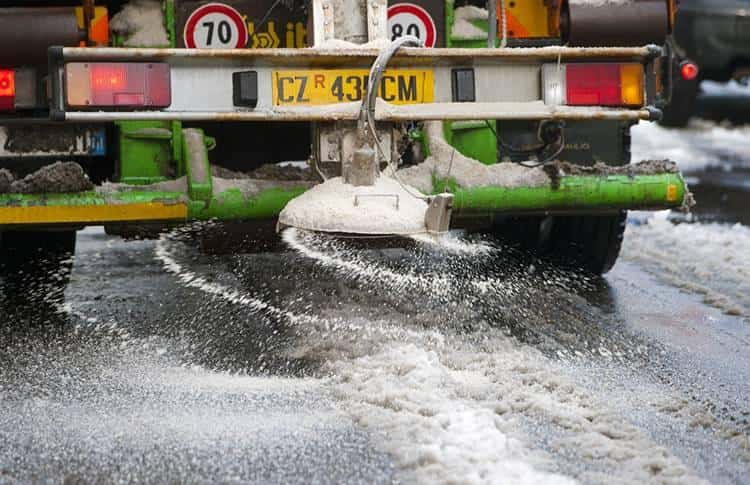 In the past several years, transportation departments have started using liquid de-icers to fight ice on the highways instead of the basic road salt. This change has been good and bad. It's good for keeping the roads clear, but it's worse for your car. And since the chemicals stick around longer in liquid form they can almost glaze your vehicle in ways that rock salt can't, finding new ways to damage your undercarriage or paint.
To prevent as much damage as you can, AAA recommends:
When possible, limit driving immediately before, during and after winter storms when salt and de-icing solutions are being applied and are at their highest concentrations.
Frequently wash your vehicle, paying particular attention to the undercarriage. This will loosen, dissolve, and neutralize road salts. Many drive-through car washes offer an undercarriage rinse as an option.
Always use a high-quality car wash solution, not a household dish detergent that will strip the wax from your vehicle.
Repair any body damage and touch up paint scratches and chips that expose bare metal which could lead to rust.
Before the start of winter, thoroughly wash and clean your vehicle before winter sets in and apply a coat of wax to protect the finish.
Give the entire vehicle and undercarriage one last cleaning in the spring. Any deposits left over from winter can continue to cause corrosion year-round if not properly removed.
Beyond the harsh chemicals and salt, be on the lookout for potholes! When water freezes it expands, causing the surrounding material (like concrete or asphalt) to get pushed out of place – so small dips can quickly become huge craters if the temperature fluctuates often. Check your tires for the proper air pressure and check your rims to be sure they're not bent if you hit a particularly rough patch.
Most of these repairs can be done on your own but if you'd like a second opinion or additional assistance mitigating winter damage bring your vehicle to our Service Department. We have ACE certified technicians that are ready to help you take care of your car, truck or SUV. We have an undercarriage coat and weather protection package that might be suitable for you, stop by for more information. Watch our specials page and save big on every trip in to see us.